Our Hospital
Four Paws Animal Hospital challenges itself to continue to improve the practice of veterinary medicine because pets are their passion and keeping them healthy is their number one priority. Your pet deserves nothing less.

Conveniently Located in Johns Creek
3571 Peachtree Pky, Suwanee, GA 30024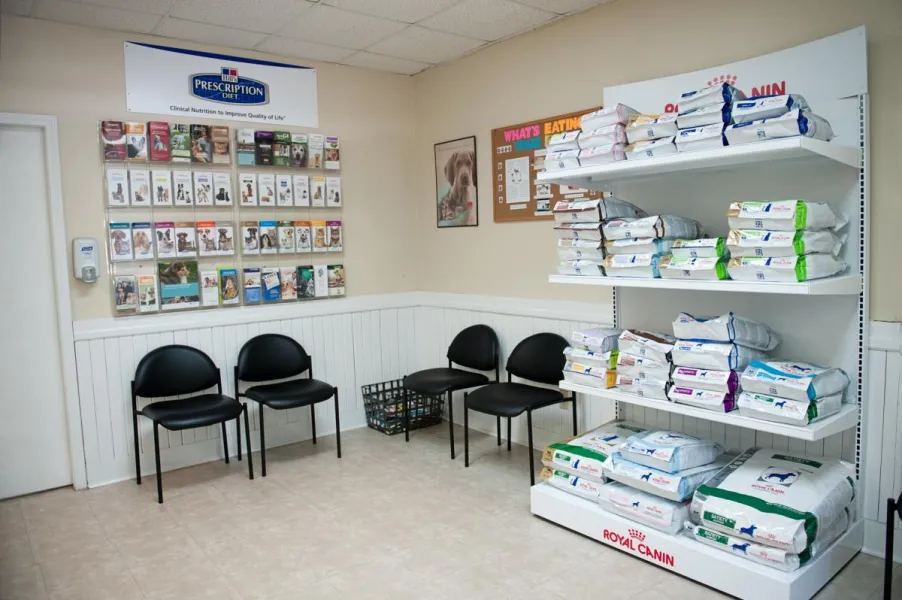 A full-service small animal veterinary hospital providing comprehensive medical, surgical and dental care.
Four Paws Animal Hospital at Johns Creek is an AHAA accredited hospital that represents the highest level of veterinary care in the industry. Their veterinarians understand the important bond that you have with your pet and strive to provide you and your pet with the highest quality health care.
Four Paws offers a broad spectrum of diagnostic procedures through in-house testing and the use of external laboratories. The facility includes a well-stocked pharmacy, in-hospital surgery suite, x-ray capabilities, ultrasound, laser therapy, a closely supervised hospitalization area, and indoor boarding kennels with outdoor walking areas.
At Four Paws Animal Hospital at Johns Creek, we strive to offer not only sound advice but also optimal veterinary care, thus allowing you the enjoyment of your companion for a maximum number of years. Our job is not only to treat your pet when he or she isn't feeling well but also to help you learn how to keep your best friend happy and healthy.

Mission Statement
It is our desire to provide the highest quality medical and surgical care to our patients and offer the best possible service to our clients.

Our clients are friends as well as customers, and we value their continued trust and goodwill. Courtesy and patience with clients and their pets are our priorities. An attitude of "We are glad you are here" is conveyed to each and every client.

Clients favor us by selecting us to care for their pets, and not vice versa. This is probably the most important concept to remember, and makes it easier to understand the importance of showing genuine concern and interest in a client's problem.

Office Hours
Open Monday-Friday 7am-6pm. Closed Saturday & Sunday.
After Hours
Emergency Numbers
| Location Name | Number |
| --- | --- |
| Bluepearl Pet Hospital Sandy Springs | 404-459-0903 |
| Bluepearl Pet Hospital Lawrenceville | 770-277-8600 |
| Animal Emergency of North Fulton | 770-594-2266 |
| North Georgia Veterinary Specialists | 678-835-3300 |