Dr. Ashley Tharp
Veterinarian/Practice Owner
Dr. Ashley Tharp is the owner of Four Paws Animal Hospital. She grew up in Alpharetta, Georgia, is a graduate of Milton High School and Emory University. She earned her Doctor of Veterinary Medicine (DVM) from the University Of Georgia College Of Veterinary Medicine in 2004. She lives in North Fulton with her husband and three children. The Tharp family has two dogs and five cats.
She is an active supporter of Angels Among Us Pet Rescue, Releash Rescue, and is a foster for Cavalier King Charles Spaniel Rescue and Trust. She has provided veterinary care for hundreds of dogs and cats that have been saved by these rescue organizations.
She has two very spoiled Cavalier King Charles Spaniels, named Jessie and Woody, who come to work with her every day. Her activities and interests outside of work include long-distance running, playing with her kids, trips to Disney World, UGA football, and spending time with family and friends.
Dr. Heather Duncan
Veterinarian
Dr. Duncan graduated from Georgia Tech in 1996 with a BS in Applied Biology (Highest honors). She earned her DVM from Auburn University in 2000 (Summa Cum Laude). Dr. Duncan has lived in south Forsyth county for 21 years with her husband Rob and two daughters.
They have a golden retriever (Fiona) and a Cavalier King Charles spaniel (Winnie). They also have two cats (Mo and Hamilton).
She enjoys training for and competing in triathlons and did her first full Ironman in Chattanooga in 2014. She also enjoys traveling to Walt Disney World with her family and participating in the run Disney events. She is an avid reader and bird watcher and volunteers with Adopt a Golden as a foster.

Office Staff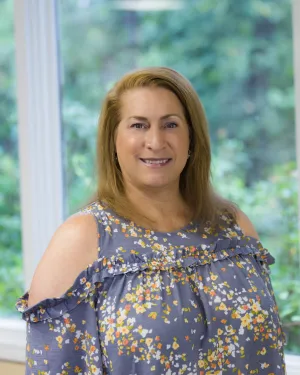 Pam Petrakovich
Practice Manager
Pam has been a member of Four Paws since December 2017. She is from Columbus, Ga. Pam and her husband Steve have two children Joshua and Ariel. Pam is also a fur mom of 4 rescue dogs, Cider, Wren, Wilson, Rodger, and Yeti (her cool cat!) She has always loved animals from a very young age. They are truly her passion. When she's not at work, she and her husband and daughter love to do competitive shooting and spending quality time with their family and pets.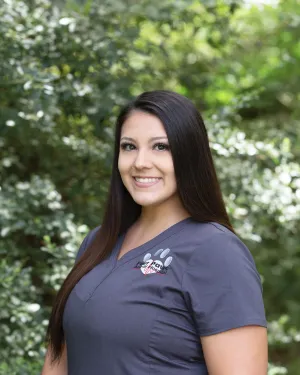 Selena
Veterinary Assistant
Selena has been a member of the Four Paws family since March of 2016. She first started as a kennel attendant then worked her way up to Veterinary Assistant. Selena is currently in school to be a labor and delivery nurse. In her free time, she enjoys exploring Atlanta and going to new breweries.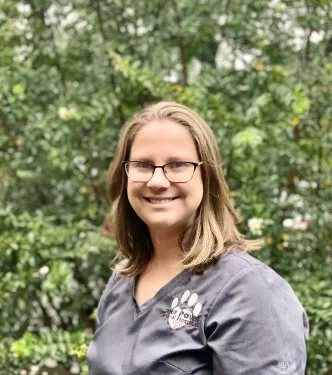 Maryanne
Veterinary Assistant
Maryanne has been with Four Paws since 2015. A corgi lover and animal enthusiast, she will care for your pets as if they were her own. She obtained a bachelor's degree in Animal Science from UGA and has been working with animals since.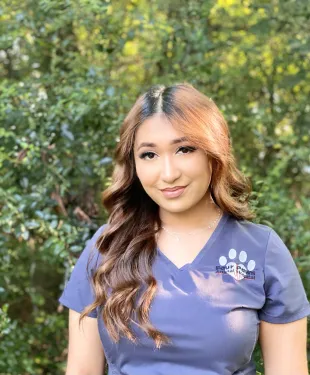 Jessica
Veterinary Assistant
Jessica has been a member of the Four Paws family since January 2021. She is from Lawrenceville, Ga. Jessica is a big fan of Shih-Tzus, in fact, she has 3 of her own Lilly, Willy, and Daisy. Jessica is attending Gwinnett Technical College to obtain her RVT. Jessica has always had a passion for animals and hopes to further continue her education at UGA after receiving her RVT. When Jessica is not at work, she is spending time with her family, shopping, and eating sushi.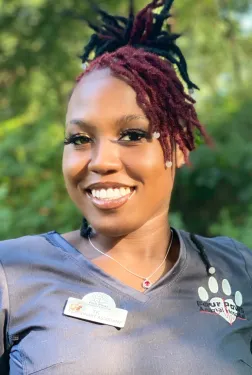 TK
Veterinary Assistant
TK has been a member of the Four Paws family since June 2021. TK has always had a passion for animals since she was a little girl, which has inspired her to continue her career in the veterinary field. In her free time, she enjoys trying new foods and being a fur mom of her 2 babies.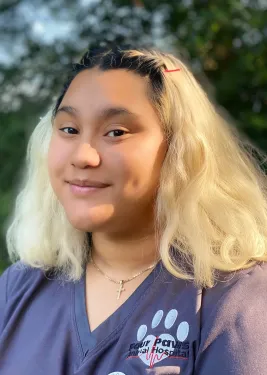 Arianna
Customer Service Representative
Arianna currently is working with the Four Paws family as a receptionist. She wants to pursue a vet tech degree so she can eventually work with marine wildlife rehabilitation. She has 2 cats and a beautiful Australian Shepherd named Prince Zuko. In her free time, she watches anime, nature documentaries, and Golden Girls, as well as spends time with her siblings to which she is the youngest of 6!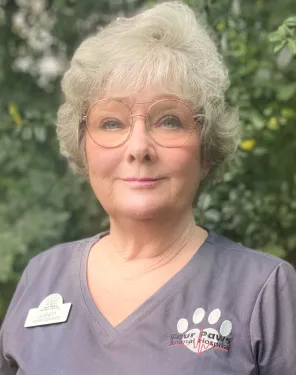 Garnett
Customer Service Representative
Garnett joined the FPAH team in June 2021. A lifetime animal love and growing up on a horse ranch, working at a veterinary practice was a very easy choice for her. She enjoys meeting people and having the opportunity to provide assistance to them and their beloved animals. Garnett is happy to be part of a great practice and the FPAH team.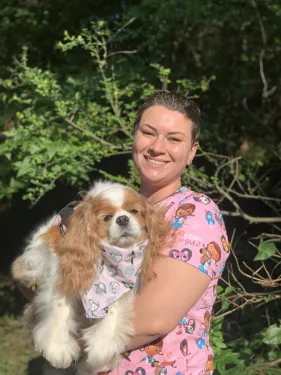 Christianna
Groomer
My name is Christianna and I am a professionally trained groomer and have been grooming for 12 years! Safety and comfort are my top priorities for both the fur babies and myself, so I will make sure I take my time to ensure that each fur baby has their specific needs met while looking silky smooth!